MARKETING YOUR HOME:
PROPERTY MARKETING THAT WORKS
SELLING YOUR HOME FASTER AND POSITIONING YOU FOR SUCCESS 
#1 NATIONWIDE
We been the #1 residential real estate brokerage in the U.S. for 22 years*, successfully bringing together home buyers and sellers from across the country.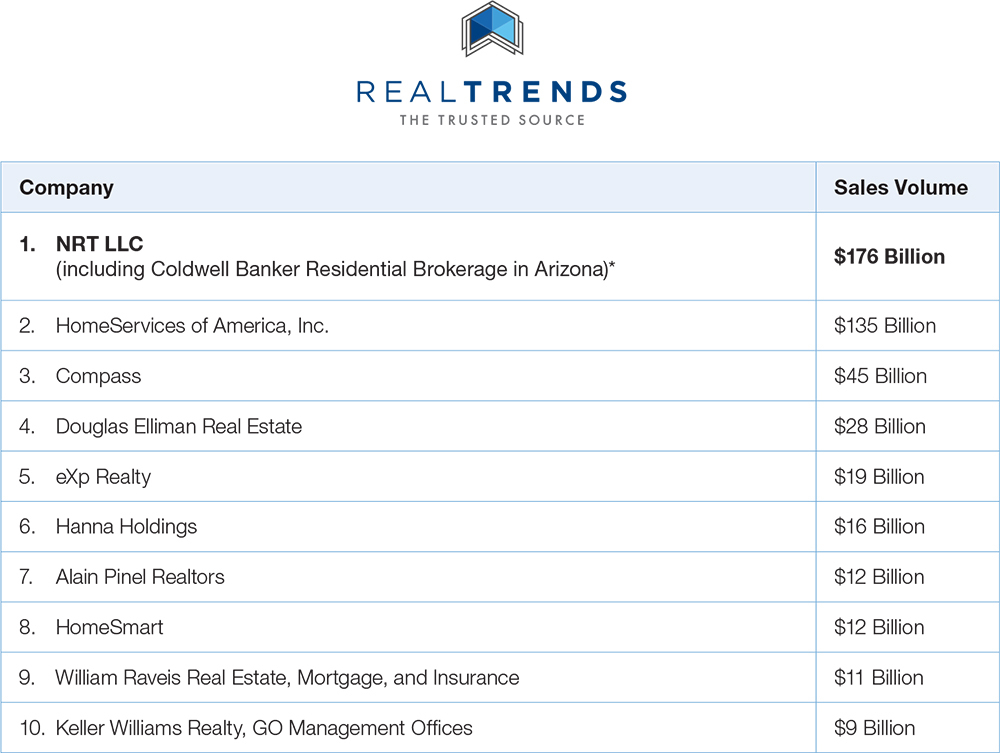 *NRT is ranked #1 in closed residential sales volume (calculated by multiplying number of buyer and/or seller transaction sides by the sales price) from 1996-2018 in the U.S. Data obtained by REAL Trends Survey, 1996-2019. Coldwell Banker Residential Brokerage is a subsidiary of NRT. Statistics include sides/sales volume for all NRT subsidiaries.
1 BRAND ONLINE
Home buyers are online — and one real estate brand gets more of their attention than any other.
The Coldwell Banker® brand is the #1 most-visited residential real estate brand online.*
Website Visits by Brand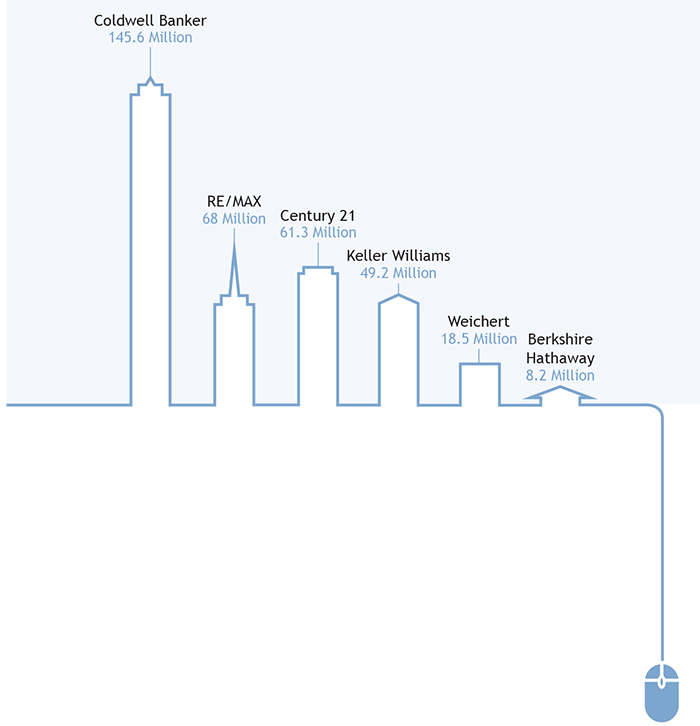 INTERNET MARKETING ADVANTAGE
Your home will be shown on up to 700+ websites, including the most-visited real estate websites in the world, putting it in front of potential buyers everywhere. Our comprehensive internet marketing strategy includes displaying your home with a detailed description and multiple photos on the most-visited real estate websites.
Syndication to as Many as 700+ Partner Websites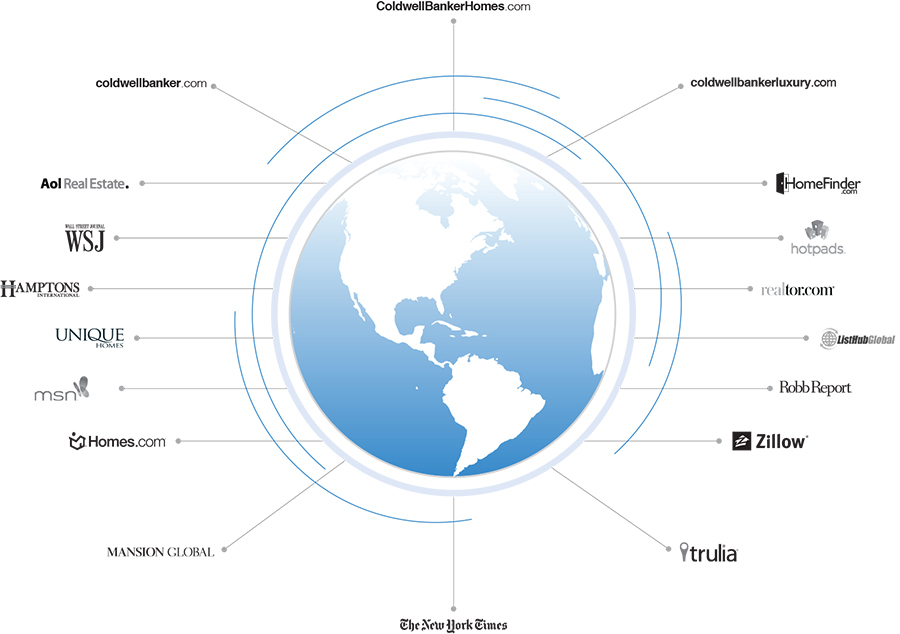 Some websites display properties based on criteria such as price point or feature. Not all properties will appear on all sites.
EXCLUSIVE PROPERTY MARKETING
In today's competitive real estate market, the key to success is differentiation — doing common things in an uncommon way. In fact, differentiation from the competition has become the cornerstone of service to our valued clients.
I am proud to deliver exceptional marketing programs that help produce results. Each step of your property's marketing plan is designed to help your home sell fast and for the desired price. I ensure that from concept to completion, your home is uniquely cared for by our expert marketing team.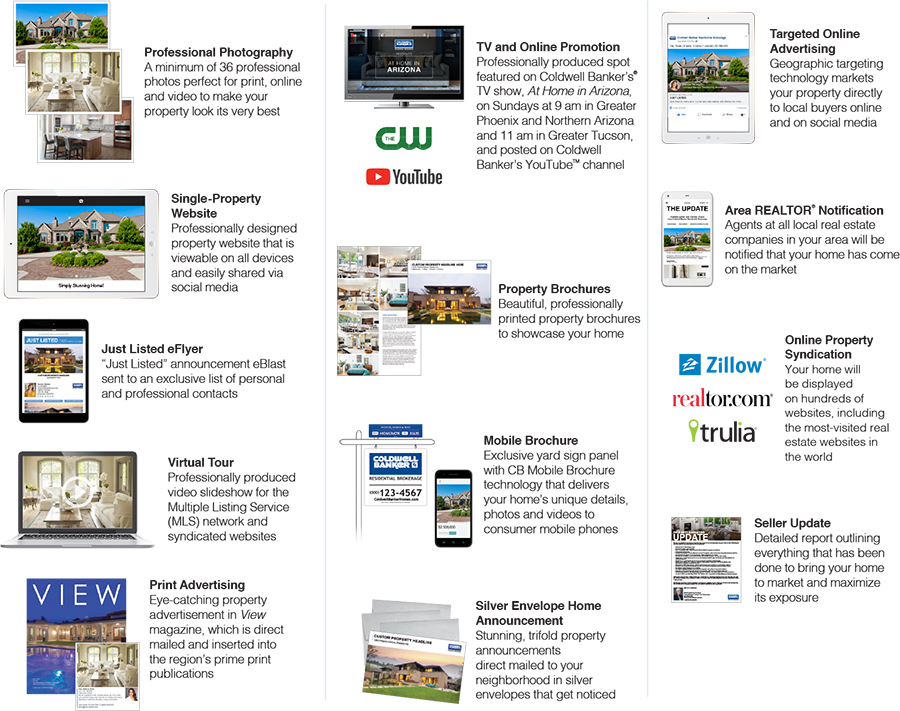 MARKETING YOUR HOME
I offer one of the most powerful and comprehensive marketing programs for attracting buyers and getting homes sold. In addition to our industry-leading online strategy, we use a proven combination of traditional and cutting-edge methods to showcase your home.
National brand advertising
Online advertising
Print advertising
Social media
Direct print and email marketing
Just Listed flyers and postcards
Media relations/public relations
Coldwell Banker Global Luxury®program
Yard signs
MLS (multiple listing service)
Professional photography
Open houses/broker opens

VIEW MAGAZINE
I have the ability to showcase properties at a vast regional level through View, a magazine exclusive to Coldwell Banker Residential Brokerage in Arizona and Southern California. The visually engaging, full-color magazine is distributed to consumers through news publications each month, reaching hundreds of thousands of potential buyers in targeted ZIP codes throughout the region.
Additionally, homes advertised in View are featured on CBView.com, the online companion to View magazine.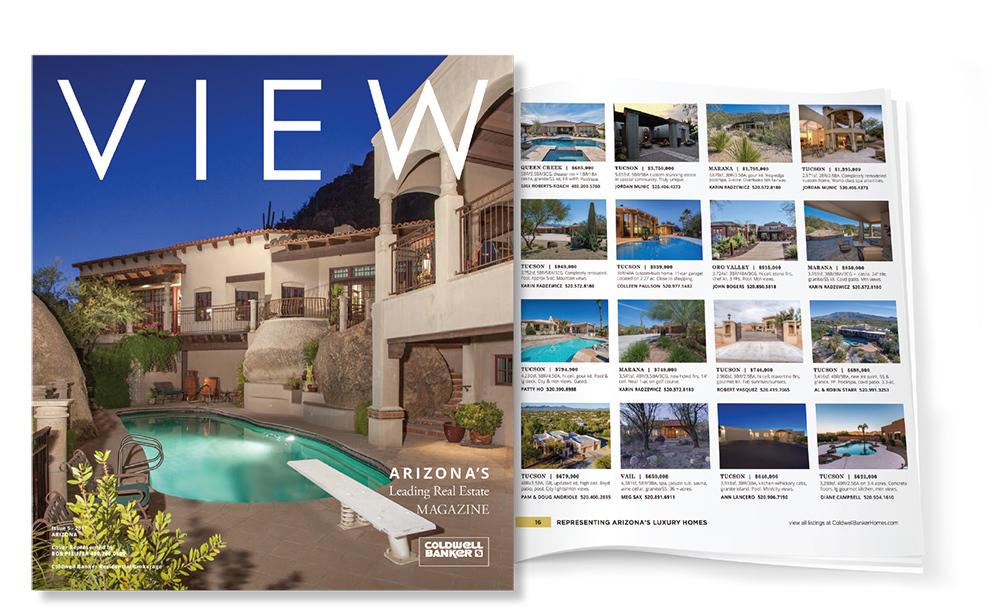 PROFESSIONAL PHOTOGRAPHY
Showcasing your home in the ideal light helps attract more potential buyers. That's why my marketing package includes professional photos perfect for print, online and video to make your property look its very best.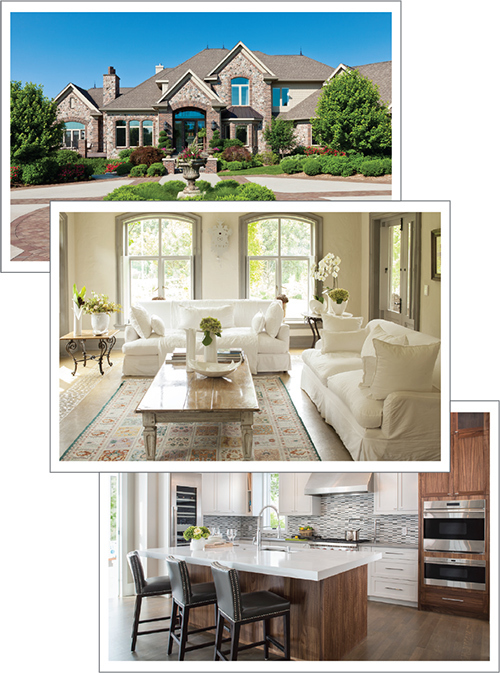 STEP BY STEP
Selling a home is a complicated process, but I will guide you through it every step of the way.

Step 1 — Pricing
Your agent prepares a comparative market
analysis (CMA)
Review market conditions
Review other homes on the market
Discuss your home-sale goals
Determine the optimal listing price

Step 2 — Preparing
Remove clutter and organize
Clean and make repairs
Stage your home for sale
Consider a home protection plan
Complete listing documents and disclosures
Create a HomeBase® account to manage documents,
deadlines and tasks

Step 3 — Marketing
Install distinctive Coldwell Banker® yard sign
Promote your home on the MLS
Syndicate your home's listing to up to 700 websites
Respond to online buyer inquiries through InTouch
Arrange showings
Hold open house
Communicate feedback
Market your property via email, direct mail and social media
Provide market updates

Step 4 — Closing
Evaluate offers and negotiate best price and terms
Enter documents into HomeBase
Facilitate inspections
Coordinate closing date, time, location and contacts
Monitor buyer financing and home appraisal
Follow up on details
Review closing statement
Close the sale
Provide copies of all closing documents and enter into HomeBase